When embarking on a patio or driveway project there are many options for which type of stone that you could use for your project, in this piece we will look at some of these options. However, there are usually three main factors in determining the type of stone best suited for your project these are; the specific application, your personal taste and your budget.
Driveway Applications
For driveways you need to use a stone that will be able to withstand vehicle traffic. Natural stone paving is an ideal stone to use here, it will easily be able to deal with the vehicles and can give a simple, yet elegant feel to your drive. If you are looking for something more colourful for your drive sandstone or limestone paving could be the stone for you. They are ideal for creating unique patterns.
Always remember you should choose a stone that has a thick enough depth that can be drove on without breaking and cracking.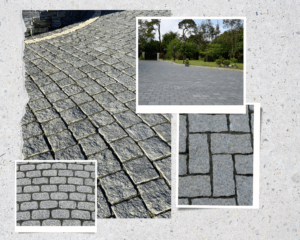 Patios and Pathways
Many customers are often looking for something unique for their Patio or pathway this can be done by creating a pattern with the paving stone or by using circular shaped paving. Again Limestone & Sandstone are both ideal to be used on patio and pathway projects. It all depends on the area and surroundings. We have various different sizes in paving 600×600, 450×600, 900×600 and 300×600, these sizes help to give your patio a dynamic look rather than having the one size throughout a large area.
Finding the right paving to match the colour and style of the house is an important part of the project, our staff can help you in choosing which paving would suit and guide you towards your finished project.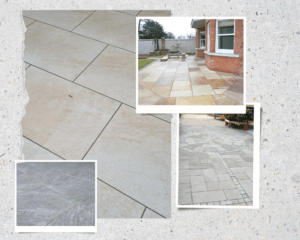 At S&N Granite we offer a wide range of natural stone paving products such as paving slabs, Indian sandstone paving & limestone paving. Contact us for more information about our products or drop into our showrooms and see our new paving display area in Camolin, Wexford.